June 26, 2020
Patio Season Is Back at Yonge + St. Clair
Patio season is back at Yonge + St. Clair meaning you can find great food and drinks all around the neighbourhood. In addition, newly installed CafeTO curb lane patios will provide even more seating space. Check in with your favourite places to dine + drink before you visit for operating hours and reservations!
Last updated: July 31, 2020
PATIOS
Location: 1446 Yonge St.
Zelden's is the perfect blend of classic deli dishes and more modern dishes aimed at evolving the style. Housed in what can only be described as a jazzy, vintage-modern locale Zelden's prides itself as the evolution of deli. Visit their storefront patio for some must-try classics. See their menu here.
Location: 21 St. Clair W
A local hotspot, Union Social Eatery is opening their curbside patio (soon!) to serve their classic fare. Stay tuned for more information. Contact 416-901-3456 or visit their website for more information.
Location: 1366 Yonge St.
Capocaccia is a neighbourhood trattoria inspired by the rustic cuisine of southern Italy. Join them on their patio, and call ahead to inquire about reservations: (416) 921-3141 or visit their website for more information.
Location: 1535 Yonge St.
This iconic multi-storey hotspot is back in action with their outdoor patio open to serve you. Catch up on some classic bites and drinks and kick off your season right! For full details and to inquire about how to land a spot, see their website. Additionally, take out and delivery is available from their site.
Location: 2 St. Clair W, on Yonge.
iQ serves up healthy meals choices with a modern flair. From salads, to smoothies, to feel-good desserts you'll find it at iQ. Pull up a chair on their new sidewalk patio. Contact them at hello@iqfoodco.com or (647) 350-7722 for store hours.
Location: 1 Balmoral Ave. Hours: Mon – Sat Noon – 9PM. Sun 530PM – 830PM
Catch up over trendy culinary dishes and beverages at Barnsteiner's with their patio seating. The quintessential restaurant dining experience you've missed so much is back! You can contact Barnsteiner's directly at 416 515 0551 or visit their website for more details or to order food to go.
Location: 1560 Yonge St. – Tucked away in the plaza corridor near Popeye's
Tucked away along the busy Yonge St. corridor, Ambiyan on Yonge serves modern Indian cuisine and beverages on their patio. It may be one of your new favourite hangouts this season since their patio has partial cover in the Delisle Court plaza offering both an outdoor + indoor atmosphere. See their website for menu and options. Call 416 792 5656 for reservations.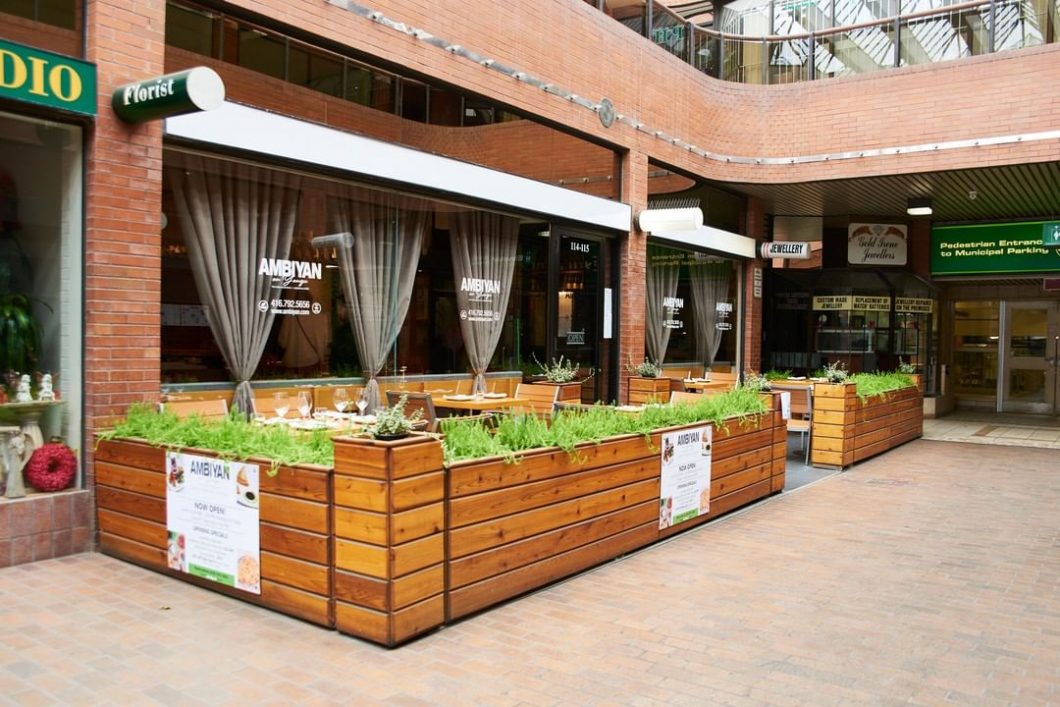 Location: 1406 Yonge St.
Traditional Italian cuisine you can now enjoy on Nove's new outdoor seating. Call to place orders or to learn more about their patio schedule (647) 345-5848.
Location: 46 St. Clair E Hours: Wed – Sat 4PM – 8PM, and Sun 11AM – 3PM.
9Bars cafe is a cozy local cafe with gelato being served on their patio. Enjoy a quick treat on their patio or get something to go through pickup or delivery!
Location: 44 St. Clair E
With Mediterranean inspired cuisine, attentive, and seamless service, Mermaid Fish and Grill House Restaurant offers an exquisite menu with high-quality ingredients and fresh fish recipes. Book your spot on their patio by calling (416) 546 9158, or see their menu here.
Location 1251 Yonge Street  Patio Time Slots: 4:30 – 6:30 PM; 6:30 – 8:30 PM; 8:30 – 10:30 PM
Limited patio seating now available! Call (416) 924-8132 or email reservations@brownesbistro.com to make a reservation!
TAKEOUT
Great meals are available for takeout if you want to find some bites and drinks to take home. See the full list of what's open nearby here: What's Open at Yonge + St. Clair
Or if you'd like to notify us of local patio you've spotted that's now open, contact us at info@yongestclair.ca