November 18, 2019
Reaching New Heights With birdO's Surreal Deer Park Mural
Yonge + St. Clair has a whole new outlook with a multi-storey mural overlooking St. Clair E that was completed in the early Fall of 2019. Adorned on the east-facing wall of 1 St. Clair E, artist Jerry Rugg aka birdO and his team, along with Slate Asset Management have set the tone for the neighbourhood's cultural emergence, showcasing their newest surreal and wonderfully colourful work of art. The masked artist, Jerry Rugg, who goes by his artistic persona birdO speaks about his approach to creating this high visibility artwork in this ever-changing community, which is home to a storied past and its exciting future. We explore this Deer Park tribute artwork in this Q+A.
Yonge + St. Clair: Can you tell us more about how developing the birdO identity relates to your approach to art?
Jerry Rugg: The birdO identity stems from the principles of graphic and all things design. We always treat large scale murals as if they are giant layouts in the community. Therefore, looking to ensure that the piece itself lives harmoniously in its surroundings with a focus on visual language items such as size, scale, colour, and flow among others. birdO is an enigmatic character pulled from my main point of artistic inspiration; Surrealism. Thus, the character of the birdO identity is an extension of the surreal, whimsical artwork itself.
Y+S: There's a focus on animals, bright colours and the suspension of belief (from a viewer's perspective) when first viewing your work, how would you describe your art style and the underlying philosophy behind it?  
JR: I love to create "surreal geometric creatures". My pieces are comprised of elements that are all familiar when viewed separately but when combined create a completely new sensation. I want my pieces to stand out as an oddity in its new environment but never to feel like an uninvited guest. You know when you are deep in thought or in a wonderful daydream and suddenly a loud car horn brings you back to reality? I love to think my work does the exact opposite, where you are surrounded and consumed by the lights, buzzers and sounds of the big city, for a moment it brings you back to imagination.
Y+S: What were some of the considerations you had in mind when drafting or conceptualizing the piece at 1 St. Clair E? And did living in this neighbourhood when you first moved to Toronto inform any of your decisions about this piece?
JR: As I use animal creatures as my subject matter for my artwork, this project had to feature a giant deer! I hadn't painted one yet and was ecstatic about the opportunity. I had lived in the neighbourhood so long ago that I chose to actually look to the future of the neighbourhood rather than reflect on my experience in the past. While conceptualizing I would take walks through the trails. It had been many years since I truly took in the area. Much is changing! I wanted to create the feeling that I would get while walking the trails, the feeling that I could come across something magical around any bend.
Y+S: What goes into planning a mural of this size, and how do you accurately put it onto the side of a huge building?
JR: As much of the time painting on a large scale is also spent problem-solving. I have certainly built up via experience, there are many tricks of the trade using different types of grids etc.
Y+S: What role do you think public art plays in the development and dialogue of a community?
JR: I have been blessed to have painted in so many different types of neighbourhoods in so many parts of the world. Public art can be tricky, as it is always tough to please everybody but it is always team birdO's aim to lead with a positive intention. I believe that is what is often felt as much as the physical artwork, that people care about the beautification of their neighbourhood. With a piece this large, there are so many people involved to make it happen, many hours and so many people looking to simply brighten a corner. I think that is what is considered with public art, that people are working with the intention of making people smile, think, or discuss. Public art is never trying to sell you anything and I think communities all over the world appreciate that!
Y+S: What do you hope that locals and visitors to the area who see the Deer Park mural will take away from it?
JR: I hope to inspire a few of our next generation's great artists. I hope the neighbourhood takes away a sense of pride. I hope on a micro-level that people enjoy the colour scheme, concept, and craftsmanship of course but I hope that the neighbourhood feels the love from my project partner's Slate, the local BIA, and Street art Toronto who were all involved in the previous large scale mural one block away. Two of Toronto's largest murals are located in Deer Park!  I love when each viewer of my artwork takes away something different from it. I love that about art in general. I hope that locals and visitors feel it. You feel me!?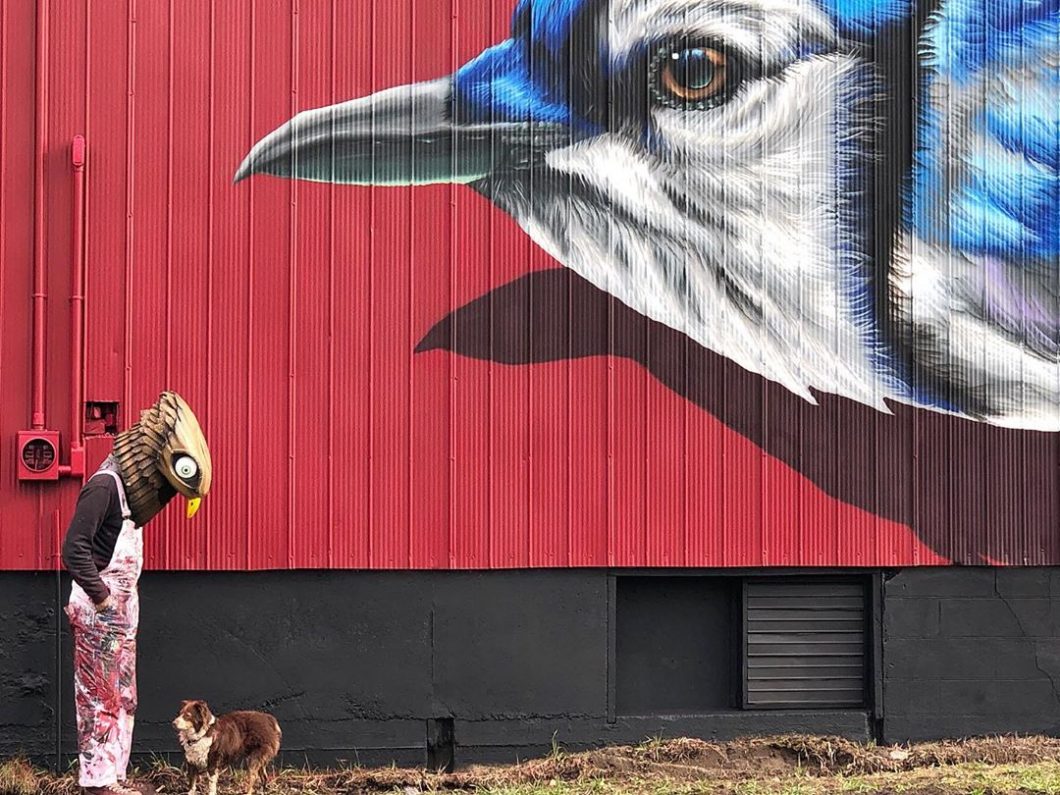 To learn more about team birdO, visit their website, or Instagram, and take a look at their completed mural at 1 St. Clair E, just a few steps from the St. Clair TTC subway station.