May 28, 2019
Spotlight: 40 Years in the Making and No Signs of Slowing Down
The Yonge + St.Clair neighbourhood features a wealth of community history hiding in plain sight. One local gem is Gianfranco Scavo's Salon Scavo located at 1470 Yonge St., which has evolved alongside the neighbourhood over the past 40 years.
If you ask Gianfranco Scavo why he's not slowing down anytime soon, he will tell you that a combination of passion, love for the industry, family, community, mentorship and success for the people around him are some of the things that drive Salon Scavo even after 4 decades in the industry. And Gianfranco is gearing up for the next 4 decades and beyond.
40 years of commitment to one industry is an achievement in itself. Gianfranco is not only a successful business owner who has stood the test of time in an ever-changing industry, he has been and still continues to hone his craft by keeping his finger on the pulse of the industry. You can still find Gianfranco behind the salon chair, serving long-time clients who now bring their children and grandchildren to his establishment.
By way of tradition and his Italian heritage, Gianfranco would say the number 13 is a good luck number. Gianfranco joined Maurice Fiorio's first salon location at 13A St Clair Avenue W (now St. Clair Tanning Spa) in 1979. Gianfranco recalls,  "We had 5 people when we started at 13A and built the team to 12. We then moved in 1996 across the street to 24 St. Clair Ave W (now the Royal Bank) and our team of 12 grew to a family of 20 and we stayed at that location until 2004." Gianfranco's face lights up when he reminisces over how it all started from his first location.
You can catch him and his abundantly talented family of stylists and colour technicians at Salon Scavo located at 1470 Yonge Street, a location they have called home for the last 15 years. In November 2018, Gianfranco took what he describes as, "a leap of faith" and decided to re-brand the business and renovate the 3,600 square foot salon
The business he has built organically from the ground up bears his name and is etched into the Yonge + St. Clair legacy where he has worked and lived for 40 years.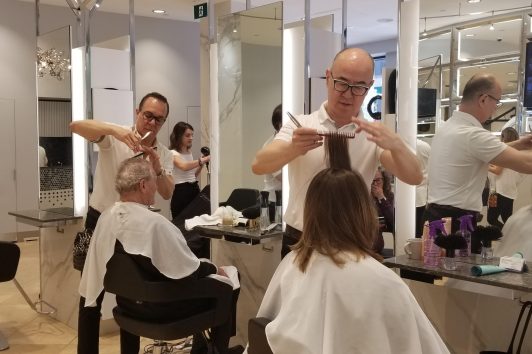 You can find Salon Scavo on Facebook, Instagram and Twitter or visit them at their storefront location at 1470 Yonge St.