June 26, 2017
Summer Pop-Up Series at Yonge + St. Clair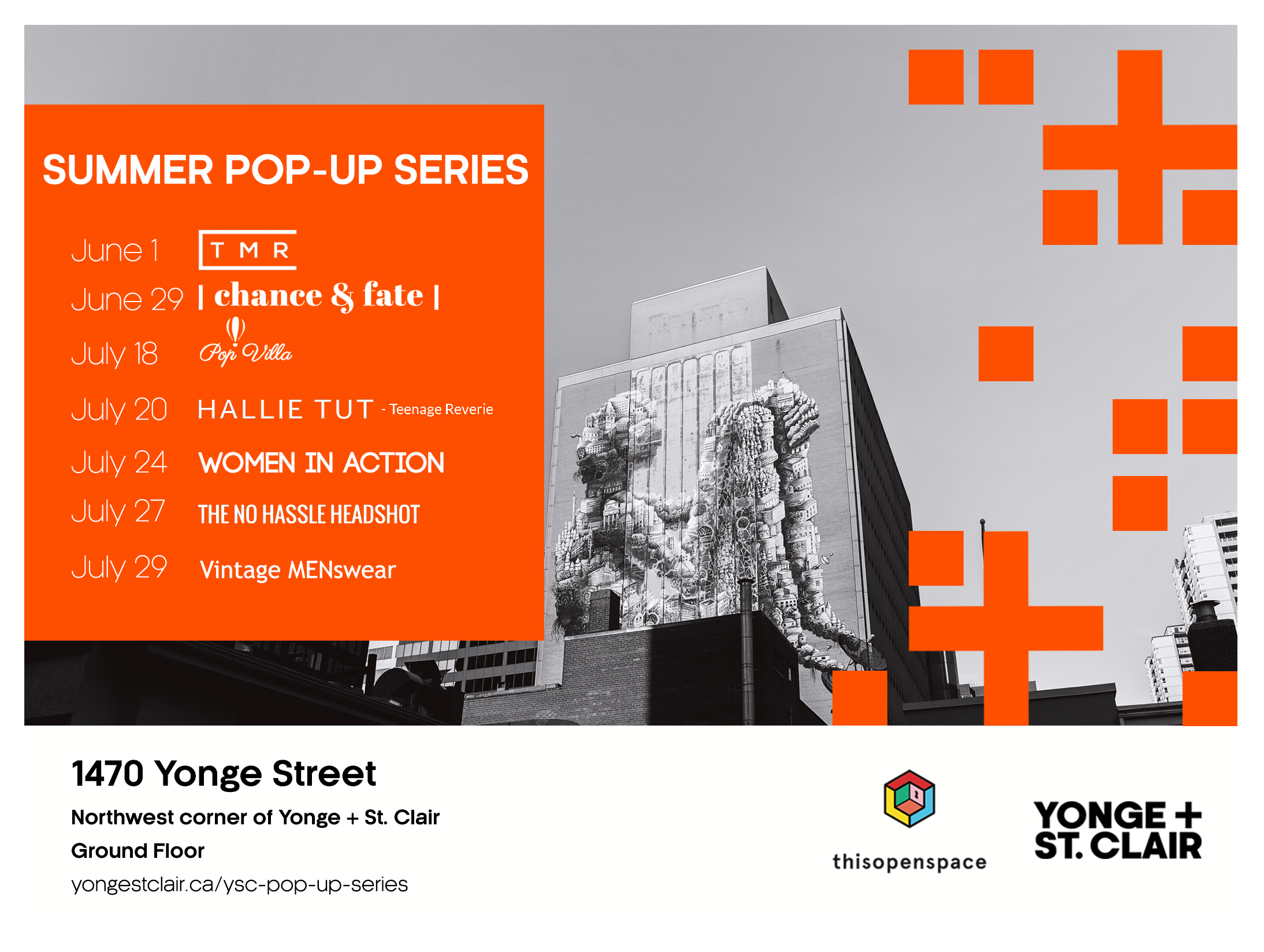 Summer Pop-Up Series
Earlier this spring you may remember the Summer Pop-Up Contest we held here at Yonge + St. Clair along with thisopenspace. Not only are we happy to announce the winner (Chance & Fate), but we're also happy to announce the incredible 'Summer Pop-Up Series' we've scheduled for the rest of the month.
From June 29th-August 4th you'll see a well curated rotation of unique and independent brands making their way to the Y+SC neighbourhood. We'll be activating the space of 1470 Yonge St. with everything from designers, artists, wellness experts, photographers, vintage goods, workshops and more.
And if you make your way up here early, there is still time to check out the current brand occupying the space until June 28th- Tara Rivas for TMR.
Check out why 'Summers are better at Yonge + St. Clair' by seeing the dates and descriptions below.
Individual hours of operation may vary. Please check back often for more details.
LINEUP:
– June 29- Jul 16: Chance & Fate (WINNER)
o Chance & Fate is a women's fashion specialty store featuring a carefully curated collection of luxurious basics and fashion pieces that will complement and elevate any wardrobe. You will find a great selection of emerging labels mostly imported from London, Denmark, Germany, L.A. and New York.
– July 18 – July 19: Pop Villa
o It's time to expand and connect with like-minded people. This series of pop-up events showcase products and services related to wellness and personal empowerment. Each pop-up infuses the public with fun and love!
– July 20 – July 23: Hallie Tut 
o Teenage Reverie is an immersive three-day art installation featuring the multicoloured photo and video works of 17 year old artist Hallie Tut. Be transported into a vibrant, surreal environment like one you would only see in a dream. Prints of Hallie Tut's work will be available for purchase with all proceeds being donated to bladder cancer research in support of her father.
– July 24 – July 26: Women in Action
o Women in Action is a 3-day pop-up shop that is designed to create an entrepreneurial and artisan platform for local women to showcase, sell, and promote their product/brand. The brands featured are products of a woman's idea and her ever going action. From fashion, food, beauty, and home decor the brands selected are curated by women who are mastering and developing an unexampled territory in their journey. Indulge in this pop-up's amazing curators, one of a kind products/brands, great location, and fun freebies along the way!
– July 27 – July 28: The No Hassle Headshot
o This unique event will offer people with a 30-minute business or personal portrait opportunity. The comprehensive session will include two different sets of lighting/backgrounds, an online image selection process and a final professionally retouched photo provided in different formats to best suit your needs.
– July 29 – Aug 4: Vintage MENswear
o Curated collection of vintage designer menswear fashion brought to you by Doug Stone, a Canadian Artist from Toronto. The specialty collection will include pieces from featured designers such as: Armani, Valentino, Dolce & Gabanna, Paul Smith and Hugo Boss, among others.