August 1, 2023
LIVE at Yonge + St. Clair

---
Thursday, August 24th – Sunday, August 27th
4 back-to-back evenings of FREE themed outdoor games, activities and contests from 4:30PM onwards, all followed by an outdoor movie screening at 8:00pm.
---
HOW TO ATTEND: All games, activities and contests will be accessible to all on a walk-in basis. However, due to limited seating space, RESERVATIONS ARE REQUIRED FOR ALL MOVIE SCREENINGS. Please arrive at least 15 minutes before 8pm in order to find a seat and avoid disrupting the movie for other attendees.
LOCATION: 1505 Yonge Street. Access via Wally Crouter Walkway on the East side of Yonge Street, next to Shoppers Drug Mart. Click here to view the location through Google Maps.
---
SCHEDULE
THURSDAY, AUGUST 24TH
Ferris Bueller's Day Off (1986): A popular high school student, admired by his peers, decides to take a day off from school, and goes to extreme lengths to it pull off…
FRIDAY, AUGUST 25TH
Pirates of the Caribbean: Curse of the Black Pearl (2003): Blacksmith Will Turner teams up with eccentric pirate "Captain" Jack Sparrow to save his love, the governor's daughter, from Jack's former pirate allies.
SATUDAY, AUGUST 26TH
The Wizard of Oz (1939): One of the most watched films of all time, follow young Dorothy Gale and her dog Toto as they're swept away by a tornado from their Kansas farm to the magical Land of Oz, and embark on a quest with three new friends.
SUNDAY, AUGUST 27TH
The Lion King (1994): a young lion prince flees his kingdom only to learn the true meaning of responsibility and bravery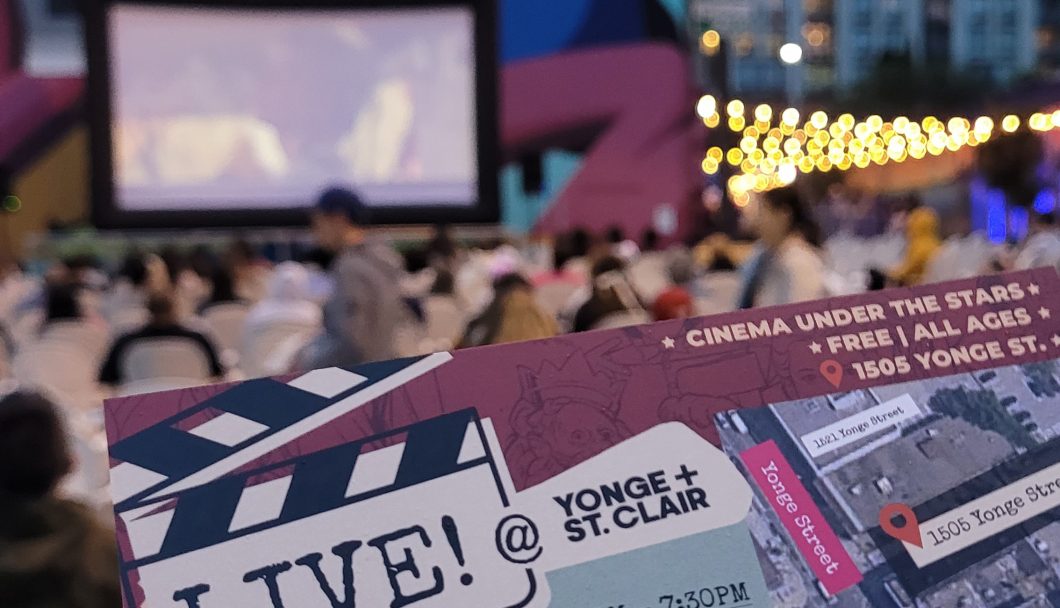 ---
EATS
We encourage you to help support local businesses by visiting one of these Yonge + St. Clair restaurants for dinner before the screening at 8pm. Bonus points for trying somewhere you haven't been yet!
Click on each link to see info about location, menus and hours. 
---
FAQ: 
What should I do if I can no longer attend the screening I reserved?
Due to the demand and popularity of this event series, if for any reason you can't attend your reserved day, we encourage you to cancel your reservation so another guest can attend. Alternatively, you may wish to transfer your reservation to a friend. To do this, click Your Profile Name > My Tickets > Scroll down to your ticket > Click More Info > Choose to Cancel Order or Transfer Ticket. 
Can I bring food and drinks? 
Yes. You are welcome to bring food, snacks and non-alcoholic drinks, although there will be popcorn and cotton candy available at the event. As well, we encourage you to bring a full reusable water bottle so as to minimize plastic waste. 
Can I bring alcohol?
No. LIVE at Yonge + St. Clair is not licensed to allow for the consumption of alcohol on the premises.
Will there be washrooms on site?
Yes. Washrooms will be available on site.
What else will you be doing to make this event accessible? 
The Yonge + St. Clair BIA has endeavoured to consider accessibility needs at every stage of the planning process and anticipates an event that is accessible to all. Volunteers will be available to assist individuals in need of support. If you have specific questions or concerns related to accessibility please do not hesitate to contact

info@yongestclair.ca

.

 
What will happen if it rains?
If we experience significant rain during the event, then the movie screening will be cancelled. If the movie is cancelled on Thursday, Friday or Saturday then we will endeavour to secure space for attendees to attend one of the next movie screenings. If we are forced to cancel Sunday's movie screening then we will unfortunately not be able to provide an alternative screening for attendees. 
Will the event be pet-friendly
Yes. The event is pet-friendly, however, dogs must be kept on leash at all times. 
Is smoking permitted?
No. Smoking and vaping are not permitted on the premises. 
Will there be seating provided for the movie screenings?
Yes. However, if you would prefer to bring blankets or your own seating, you are more than welcome to.
How should I travel to the event?
By Subway:
By Streetcar:
The

512 streetcar

runs along St. Clair Avenue with stops at Avenue Road, Deer Park Road, and St. Clair Station. Exit at North East corner of Yonge St & St. Clair Ave and walk North on Yonge St. 
By Bus:
The

88 – South Leaside bus

arrives at St. Clair Station from the Wicksteed Avenue and Thorncliffe Park Drive area. Exit at North East corner of Yonge St & St. Clair Ave and walk North on Yonge St. 
By Bike:
City of Toronto cycling routes include Rosehill and Avoca, and Heath St W and Lonsmount.
By Car:
Where can I park? 
If you have any other questions or concerns about the event, please reach out to info@yongestclair.ca.
See you soon!