May 23, 2022
The Colourway at Yonge + St. Clair
Share #TheColourway Photos for Local Deals
Explore an all-original, whimsical, pop-up rainbow walkway at the corner of Yonge + St. Clair made from 5000 upcycled and defunct pool noodles. FREE for all to visit, this outdoors art installation aims to welcome Summer with a splash of colour and playfulness. The Colourway launches May 23 @ 5PM and runs until June 24! Find it at 1479 Yonge St., directly in front of the Loblaws (click to see Google Maps location)
As part of this community attraction, enjoy local deals and promotions at participating Yonge + St. Clair storefronts when you show your photo of The Colourway in-store. More details below.
And remember to post your photo using #TheColourway to be featured on the Yonge + St. Clair social feeds.
A note on sustainability: The Colourway was repurposed from 5000 defunct and refunded pool noodles and will make seasonal reappearances as a public art installation for years to come. Once The Colourway retires, all these pool noodles will be sent to a local manufacturer who will recycle these materials into new pool noodles to ensure these materials never go to landfill.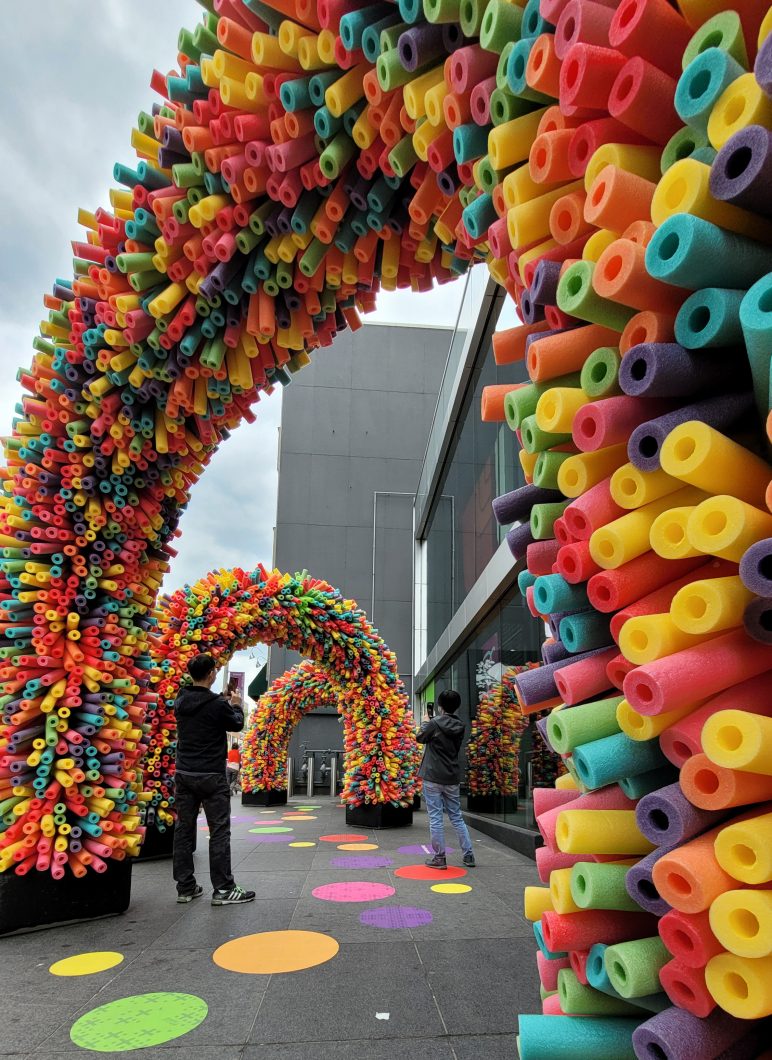 Show Your Colourway Photos In-Store for Local Deals
Whenever you show your photo of The Colourway at local participating storefronts, you can redeem exclusive deals. See below for storefront deals and locations. Conditions and restrictions may apply, visit in-store to learn more. See map below.
Boccone | 1384 Yonge St.
Get a Free Pizza Slice when you post your photo to Instagram and tag @boccone and @yongestclair
Presse Café | 40 St. Clair W
Buy any pastry and get a drip coffee of any size for FREE
Paperboy Cards + Gifts | 7 Pleasant Blvd.
Save 10% off all purchases
Salon LYOL | 1452 Yonge St.
10% off all retail products and a chance to win a Nespresso machine for each $50 spent
RUCCI | 1426 Yonge St.
25% Off All Men's Suits
Balance Fitness | 52 St. Clair E
Free day pass with one hour free on their new golf simulator

St. Clair Greetings | 1421 Yonge St.
Spend $50 to receive a free in-store gift
Ace Sports Clinic | 1 St. Clair West #302
Receive a complimentary 30 minute kinesiology session and free keepcup 

The Health Shoppe |  1378 Yonge St.
5% Off Supplements (minimum purchase of $25), and a $5 donation for every purchase in support of The Red Cross: Ukraine Humanitarian Crisis up to $400

Sean's Shoe Repair | 2 St. Clair E, Lower Level
Claim your Shoe Shine Club card in-store for all footwear services 

Rosedale Oxford Learning |  44 St. Clair Ave East
$50 Off Summer Programming at Oxford Learning Rosedale 

Oxygen Yoga + Fitness (Yonge + St. Clair)| 1560 Yonge St.
Free trial week of programs at their studio
Renge Dojo | 1423 Yonge St.
1 Month Membership for $99 

Olsson Optical | 1407 Yonge St.
Shop a selection of seasonal frames
Special Thanks
Gensler | Concept, Design and Build
Colliers | Resource Support
Slate Asset Management | Resource Support