September 25, 2021
Spotlight: Hair Artisans Celebrates 10 Years!
Yonge + St. Clair BIA congratulates local hair salon, Hair Artisans on their 10 year anniversary! Here is a introductory article about their operations, a tour of their salon, insights into their return from the lockdown, and a peek into what's going on at their storefront .
Hair Artisans located at 76 St. Clair West, is the neighbourhood salon with a boutique touch.
Hair Artisans opened in August of 2011 by owner and colourist Rebecca Sutherland. Friend and fellow master colourist Ryan McLaughlin joined the team in the fall of 2011 and became an owner in 2016. Together, along with long-standing staff of Emma Milligan, Anya Martin and Sam Odell, Hair Artisans have been serving the St. Clair and Yonge community for a decade worth of healthy, stylish, superb looking hair. 

Hair Artisans specializes in modern styling for everyone. Services include colour, highlights, balayage, extensions, plus hair cuts for all – adults and kids!
What's Hair Artisans like? As soon as you step through the door, you are met with warm vibes. The clients are treated more like good friends, and everyone walks away feeling loved and revitalized with fresh new styles and hair colour.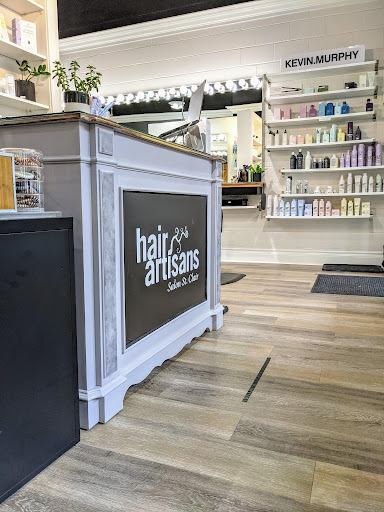 While celebrating their 10th anniversary this year, Hair Artisans' connection to the St. Clair & Yonge area started well over 15 years ago when Ryan and Rebecca both worked at other professional salons in the area. Rebecca began her career at Exit Salon, and Ryan and Anya, and Sam first established themselves in the area at Fiorio Salon. 
The relationships built with their amazing clients over the years is what has sustained them during the two major prolonged closures to hair salons because of the Covid pandemic. To make it through, Hair Artisans temporarily transitioned to a storefront for product pickups and deliveries. True to form, The neighbourhood stood arm in arm with this local small business by purchasing gift cards, shampoo, styling products and blow-dryers. When the salon was finally able to reopen this July, Hair Artisans extended hours, working 12-14 hour days, 7 days a week in order to fill the large backlog of hair appointments. 
"We were committed to getting everyone in. Emotionally, it was gratifying, but physically it was  exhausting. None of us were used to being on our feet all day after 9 months closed!" Says Rebecca. She equates seeing her coworkers and clients in the salon again as being reunited with old friends. "A lot can happen in 9 months, even in a pandemic. The catch-up conversations and the home-dye colour corrections were epic" Says Ryan. "We are so grateful to be back"
To celebrate the 10th Anniversary and to thank the St. Clair & Yonge community, Hair Artisans are running a promotion for all bookings in October. Clients will be treated to a complimentary L'Oreal Professionnel hair treatment with their service. Pureology, Kevin Murphy and Color Wow have also provided samples and goodies to share with everyone. Finally, there will be a gift basket full of product and prizes up for a draw at the end of month. Anyone who books an appointment in October will have the chance to win! 
Rebecca puts it this way – "Our community was there for us when things were bad, now we want to pamper them to show our thanks and heartfelt appreciation"  
When asked what Rebecca and Ryan were looking forward to for the next ten years… "more fabulous hair, long-lasting friendships, and health and happiness for all our neighbours."
To learn more visit hairartisans.ca, or call them to speak with one of their team members at (416) 792 8223!