July 15, 2019
Spotlight: Midtown Tech is Back
Midtown Tech, the local Apple Specialist, authorized Apple Re-Seller, and Apple Service Provider has reopened at Yonge + St. Clair. We spoke with store owner Graham Goodall, who explains the leap of faith he took to ensure the revival of this popular shop.
Yonge + St. Clair: Why did you decide to reopen the store, and what did the process look like?
Graham Goodall, Midtown Tech: I decided to open the store because of its great, central location. I also knew that many people in the Midtown neighbourhood rely on us as their go to Apple shop. When the old store suddenly closed in November, I decided to take a risk and take over the lease at 1391 Yonge St. I then started the process of achieving my own Apple Authorizations. That process took around 4 months. Today we are not only an Apple Authorized Re-Seller and Apple Authorized Service Provider, we were also awarded the Apple Specialist designation, which is used to recognize Apple Shops that have consistently excellent sales and service.
Y+S: What's special about the Yonge + St. Clair neighbourhood that made you decide to reopen here?
GG: There is a very high volume of Apple users in the Midtown Area. Many of those customers are looking for a boutique experience and our team can provide a hands-on approach. Our store motto is, "we will always take the time to help you make an informed decision." I think the personal attention we provide is very appealing to the demographic of the Midtown neighbourhood.
Y+S: What do you sell and what services do you offer?
GG: Midtown Tech is your one stop shop for everything Apple. We have all the latest tech for your Apple lifestyle. We sell all Apple products; both new and pre-owned. We are the premier destination for pre-owned Macs, iPads, and iPhones in the GTA.  We do warranty and non-warranty repairs on all Apple devices. We carry the latest and greatest in Apple accessories. We rent pre-owned computers. We can send on-site Apple Specialists to you, so you can have great service or private lessons in the comfort of your own home. Let us take the stress out of your Apple sales or service experience.  If it's Apple, we can help!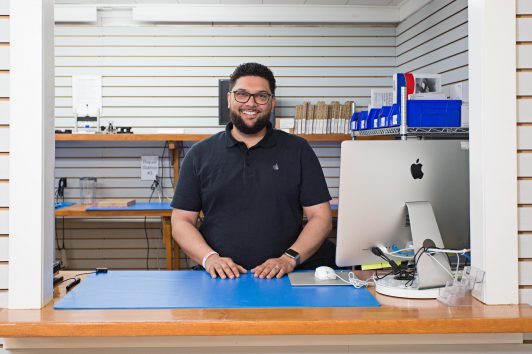 Visit Midtown Tech in person at 1391 Yonge St., or visit their website to learn more about their services and products: www.midtowntech.ca