April 27, 2023
Deer Park Challenge 2023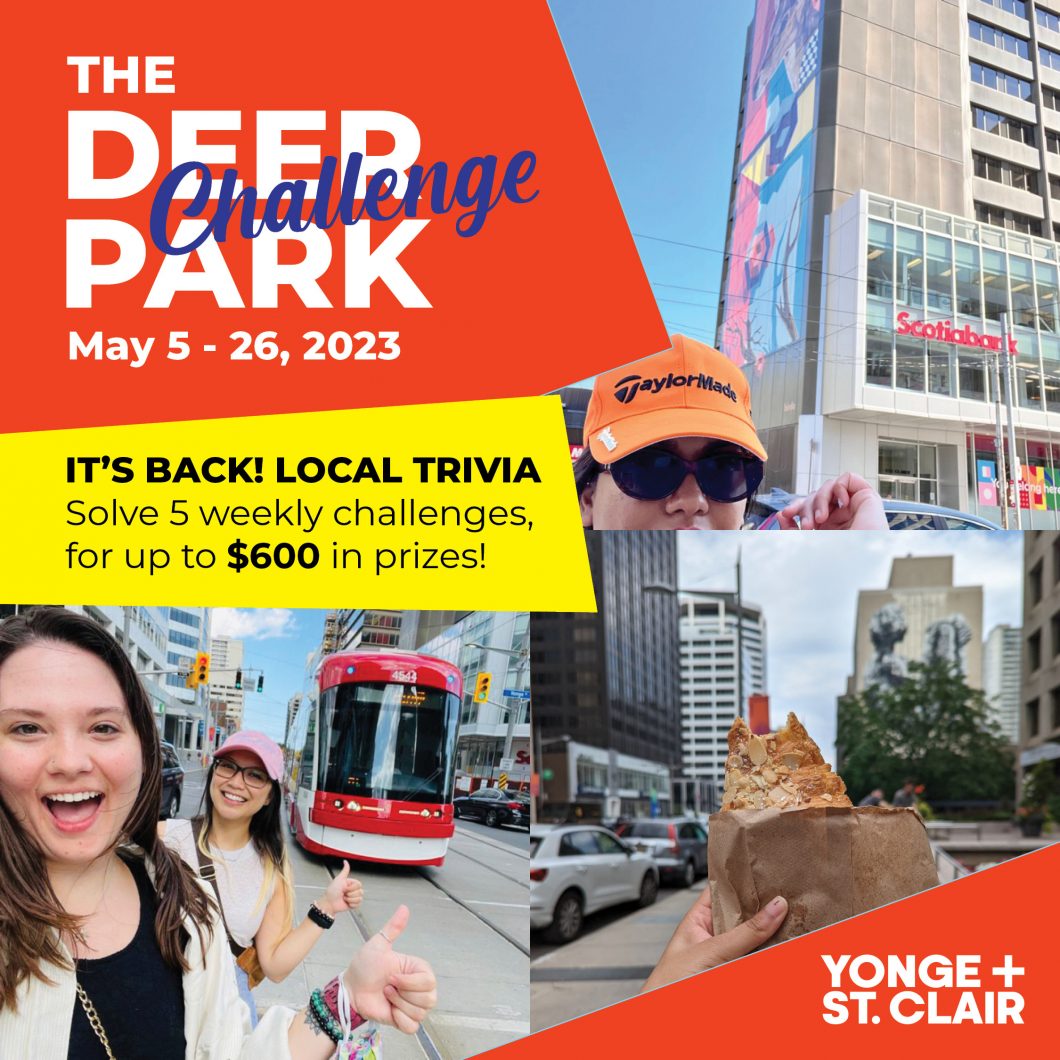 The 3rd Annual Deer Park scavenger hunt is back! Starting May 5 2023 until Friday, May 26, 2023
The Deer Park Challenge is a self-led, 3-week scavenger hunt taking place across the Yonge + St. Clair neighbourhood.
Complete challenges on your mobile device, which include 5 new challenges every week, to earn points and be entered for a chance to win $100 in weekly prizes, and for your chance to win the final grand prize draw of a $300 Yonge + St. Clair gift card, plus the official Deer Park Challenge Trophy.
The Deer Park Challenge includes riddles, neighbourhood exploration, creativity challenges, and proof-of-purchase challenges.
How to Play
STEP ONE
This contest is hosted on Goosechase, an online platform that lets organizations and schools engage, activate, and educate their communities through interactive scavenger hunt experiences.
Download the free Goosechase scavenger hunt app either in the official Apple App Store here (iPhone users), or in the Google Play Store here to play directly from your mobile. Once you've opened the Goosechase app, search for "The Deer Park Challenge 2023" or enter the Game Code: BDL5ED  to join the game.
STEP TWO
Complete the 5 current weekly challenges before the following Friday 5:00 PM EST. Eligible entries will be submitted in-app as photo, video, text, or GPS upload. Only original submissions will be accepted and scored as eligible entries.
Each week, a new set of 5 challenges will be automatically released on Friday at 5:01 PM EST.
STEP THREE
At the end of each week on Friday at 5PM, the player with the highest score will win a $100 Yonge + St. Clair gift card to a local establishment of their choice. There may be multiple players tied for the highest score, only 1 (one) winner will be determined by a random draw.
Weekly winners will be announced May 12, May 19 and May 26th, 2023.
In addition to the weekly winner, one (1) grand prize winner of the $300 grand prize + Deer Park Challenge Trophy will be determined at the end of the event Friday, May 26, 2023 by random draw.
*Any points earned above the maximum intended point total (as determined by the sum of all earnable points associated with available challenges) will not count towards the high score total.
You can also follow our social media accounts on Instagram, Facebook and Twitter to see if you've won the prize draws. Or email info@yongestclair.ca if you have any questions or concerns.
We look forward to seeing your entries and wish you all the best in completing the third annual Deer Park Challenge!